27 Quirky Albert Einstein Quotes on Everything
Einstein may have been a physicist, but he sounded off on all sorts of topics in a way you'd only expect from a certified genius. His quotes are quirky, fun, and at times encouraging and always thoughtful. Here are some of his best quotes on all sorts of topics.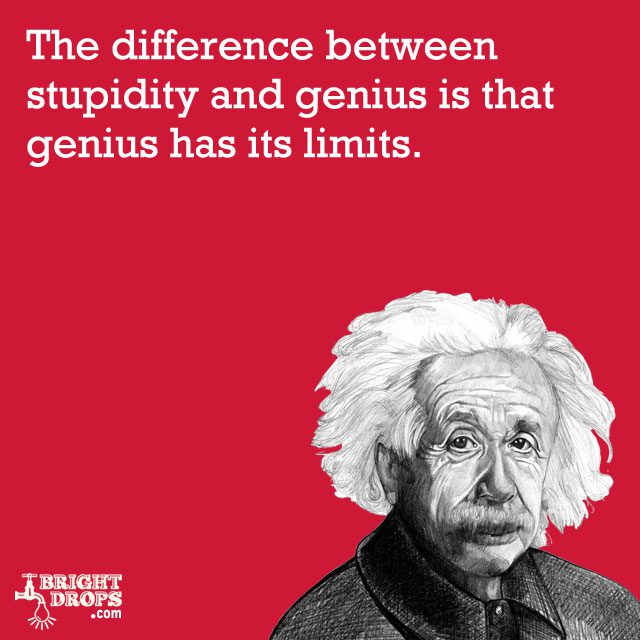 "The difference between stupidity and genius is that genius has its limits." -Albert Einstein
Einstein must have been consistently baffled by the stupidity around him as well as what he saw around the world, because he opined about stupidity pretty often. Being such a great mind, it's would be good to know if he thought the average person was stupid, or that they just did stupid things or had stupid thoughts. Most likely he was probably referring to the all-out stupid, the sort you see on World's Dumbest Criminals and other outlets like that, the real "natural selection at work" kind of stupid. He's saying that there's just no limit to the kind of stupid things humans can say and do. It's just as spot on today as it was back then.
"Imagination is everything. It is the preview of life's coming attractions." -Albert Einstein
It all starts in your imagination, not just in your own personal world but in the world around you. Everything you see that is man made is something that started off in someone's imagination. You can harness that power whenever you choose to in order to set up what's on the way for you. First Einstein had to use his imagination before he applied his scientific mind to any problem. He had to imagine what the universe was like and how it worked before he could start to put equations to it.
"A clever person solves a problem. A wise person avoids it." -Albert Einstein
This is a true statement if ever there was one. Perhaps that wise person got to be wise because they're also clever, and have solved so many problems that now they know how to avoid them. It seems that we're often presented with the same problem again and again, and we learn a little bit more about how to solve it better than before. That means we're pretty clever, but a better way to go about it would be to not have that problem surface in the first place. Knowing that something is going to cause a problem and then taking steps to avoid the problem from happening is akin to Jedi mastery of living.
"Everything should be made as simple as possible, but not simpler." -Albert Einstein
This play on words by Einstein is poignant and a bit baffling when you first hear it. After all, how could you make it more simpler than what is possible? Is Einstein saying that what seems possible is only an illusion? Or is he just making a tongue-in-cheek reference to what is possible? The gist of this quote is that you'll want to make everything as simple as you can, and maybe this is referring to the theories and equations he would come up with. Einstein was pursuing the theory of everything, a simple theory that brings together all aspects of the physical universe, and maybe this was his guiding phrase.
"A question that sometimes drives me hazy: am I or are the others crazy?" -Albert Einstein
This is a question that should make all of us think. Often times we might look at others and think they must be crazy, but what if they're doing the same to us? Einstein had such advance thoughts and revelations that he must have felt different than everyone else, which led him to wonder if he was the oddball, or if everyone else was. If you've ever felt like everyone in the world is crazy but you, maybe it's the other way around. Maybe behind the genius we know as Einstein there was a madman lurking. Who knows how literal Einstein was being when he said this quote.
"If the facts don't fit the theory, change the facts." -Albert Einstein
Most "facts" are just other people's opinions, so changing the facts to suit your theory is a good way to go. It could be said that Einstein caused many scientists and physicists to change what they once considered facts when they saw the equations that Einstein was producing. It's easy enough to apply this to your own life. How many "facts" are you allowing to govern your life? Many times facts lead to strongly held beliefs that we have that change the way act and ultimately the way we think and the lives we lead. What if these beliefs are based on facts that aren't really facts?
"It's not that I'm so smart, it's just that I stay with problems longer." -Albert Einstein
Einstein was pretty humble even though most people of his day were calling him a genius and the greatest thinker that ever was. Here he's saying that his genius lies in sticking with the problem and not giving up. That's a pretty remarkable ability in a world where giving up just seems to be the thing people do when they come to a roadblock or get stymied by a problem. Can you apply this to your own life? Is there a problem you've been experiencing that you can keep trying to solve even if you've previously given up on trying to solve it?
"Imagination is more important than knowledge." -Albert Einstein
This goes along with Einstein's other comments about the imagination. He goes out of his way to overstate how important imagination is, and here he's saying that it's more important to use your imagination than it is to know something. This is not only true for each individual, it's true for the survival of the world. If we didn't have imagination, and just relied on knowledge, we wouldn't be able to make any progress because we'd just know things are the way they are and wouldn't have the ability to change things and know anything new and different.
"No problem can be solved from the same level of consciousness that created it." -Albert Einstein
This is an interesting quote, and is probably the reason why so many problems seem unsolvable. If you have a problem in your life and are trying to deal with it from the same emotional state you were when you created it, you won't be able to come up with a good solution. Only when you think better, clearer, and with a better emotional feeling will you have the inspiration needed to come up with a workable answer. Many times Einstein would make a quote that's related to his work, but it has the direct ability to be applied to other areas of life.
"Only a life lived for others is a life worthwhile." -Albert Einstein
Wow, this is a pretty interesting quote from a physicist, and seems a bit wide-sweeping in saying that there's only one way to live. But perhaps he was just trying to get people to live for others just a bit more. It seems to be a bit out of style to think about others these days. Maybe it was the same back then but with all of the technology we have available it seems people are getting more distant with each other with eyes stuck on smartphones. By living for others, perhaps he meant giving your time and effort to help those less fortunate, or living with a grander purpose than just your own self-interest.
"Gravitation is not responsible for people falling in love." -Albert Einstein
Einstein talked a lot about love, and must have been at least somewhat interested in the subject to devote so much attention to it when he has so many other big things to think about. This only goes to show the importance of love and the part is plays in our lives. Here he's saying that it isn't gravity that causes people to fall in love, and perhaps on a bigger scale he's saying that science has no place in love, because love is an energy and the attraction of two people is not rational or scientific, but a mutual magnetism of those energies.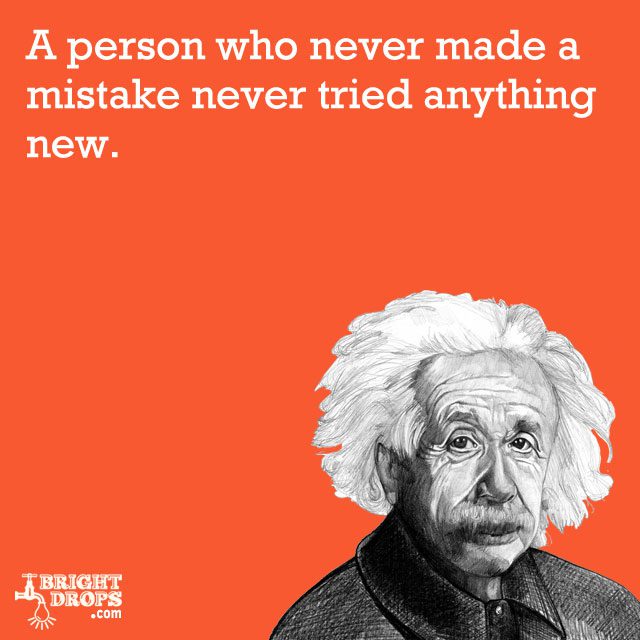 "A person who never made a mistake never tried anything new." -Albert Einstein
Here's a quick pick-me-up the next time you make a big mistake and screw things up big time. It just means you're trying something new, and you should be applauded that you aren't simply doing the same thing over and over again and expecting different results, which Einstein referred to as insanity. It's so easy to beat yourself up when you make a mistake, but that's how we learn and it means you're growing. You can count it as a victory when you make a mistake, as you are getting closer to the point of mastery where you won't make as many mistakes, or any at all in your new endeavor, and then you can take on something new and master that.
"Never memorize something that you can look up." -Albert Einstein
This is more true today than it was back in Einstein's time, because the Internet means you can look just about anything up. That frees the mind from having to memorize useless facts and figures and explore deeper thoughts that require creativity and imagination, two things that Einstein prized above all else. It's true that even some of the most successful business people followed this strategy. Henry Ford was once questioned about how smart he was and retorted that he could get the answer to any question with just the push of a button, so why did he have to know it?
"If you can't explain it simply, you don't understand it well enough." -Albert Einstein
This is definitely a quote that applied to his work as a physicist, but which can also be used in any area that requires understanding. If you are a master of something then you shouldn't have trouble putting it into simple terms for others to understand. Stephen Hawking is a great example of someone that can take giant concepts and put them in terms that anyone can grasp. It's also a way to figure out if you yourself know enough about a subject, or if you need to go back and study up. If you've had trouble lately explaining something that you thought you knew quite well, it may be a sign that more learning is required.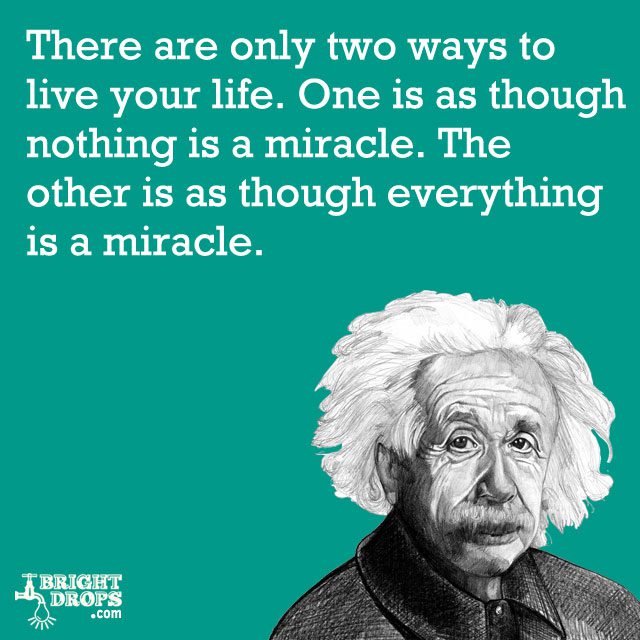 "There are only two ways to live your life. One is as though nothing is a miracle. The other is as though everything is a miracle." -Albert Einstein
It can be assumed that Einstein led his life as if everything was a miracle. He delved deep into the boundaries of the universe and back and must have been astounded at what he saw. It's also pretty easy to flip flop between each one, depending on what sort of mood you're in. But trying to keep yourself on the positive side for the most part is your best bet, and there are many wondrous things to behold, if you just view them as miracles, rather than accidents. Do a self-check and see which way you've been living your life. If necessary, make the decision to view things as being miracles and see what sort of positive changes it brings.
"Life is like riding a bicycle. To keep your balance, you must keep moving." -Albert Einstein
When riding a bike it gets harder and harder to keep it upright without putting your legs down the slower you go. Just a bit of momentum makes it a lot easier to keep moving forward, and to keep the bike balanced. Einstein is saying that the same is true for life, and as long as you keep moving forward it's easier to find balance. Another way to look at it is that if you're not growing and moving forward, you're not really living, life is motion and you either have to move along with it or get left behind.
"Creativity is knowing how to hide your sources." -Albert Einstein
Is Einstein saying that the things he created weren't his own, he just knows how to hide his sources? Probably not, he's just being playful here. But what he is most likely referring to is that much of what is considered creativity started with someone else's idea, and then was expounded on. Einstein didn't just start making up theories and equations, he first studied the work of those that came before him and then added his own insight and genius to what already existed, creating something entirely new, and getting credit for being an amazing thinker, but ultimately working within the realms of established physics.
"Reality is merely an illusion, albeit a very persistent one." -Albert Einstein
This is a tricky quote from Einstein, because at first he tries to tell you that reality isn't real, but at the same time he's saying that it seems to be real, and that it is always in your face. That makes it hard to ignore, but maybe he's saying that you have to look past the illusion to see what's actually real. Since reality is so persistent it makes it hard to think of anything else or of things being any different than they are. But in order to change your reality you have to disengage from it for awhile and dream of the way you want things, not letting reality stop you.
"I have no special talents. I am only passionately curious." -Albert Einstein
Everyone attributes so much to Einstein, he was a genius, he was a great thinker, he changed the world, etc., but Einstein remained humble and always tried to downplay his abilities. Here he says that he doesn't have any special talents, but that he has a passion for curiosity that moves him forward and helps him find the answers to the questions that his brain poses. Perhaps he's also giving a slight to other scientists and physicists that didn't make accomplishments nearly as world-changing as Einstein. Maybe he was saying that they just aren't curious enough. By saying you don't have any special talents you're saying anyone can do what you do, they're just not passionate enough.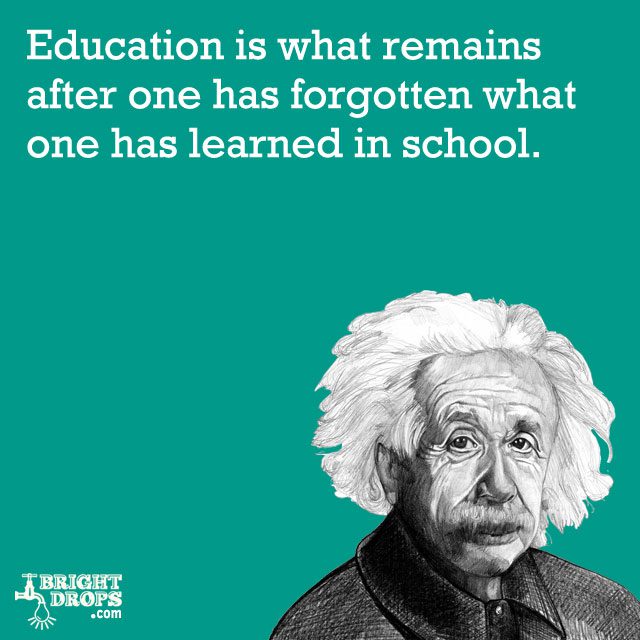 "Education is what remains after one has forgotten what one has learned in school." -Albert Einstein
Here Einstein is laying the smackdown on the educational system, saying that you have to forget, or even unlearn what you learn in school and start from scratch. It's no secret that I'm Stein didn't graduate from high school, which may be an indication of how much regard he had for standardized occasion. However, he did go to college so he must have learn something to help him in his career as a physicist. There have been many people that question our educational system and say that it needs to be reformed, and perhaps Einstein could have helped with that restructuring.
"If a cluttered desk is a sign of a cluttered mind, of what, then, is an empty desk a sign?" -Albert Einstein
This quote shows Einstein's humor and must have been a quip he had at the ready whenever someone asked him why his desk was so cluttered. Or maybe his desk had lots of stuff on it, but it was all neatly organized so he could access it quickly and accurately. Only those with daily access to Einstein's desk would have known the answer. It is unclear whether I'm Stein was recommending having a clear desk, or a clean and orderly desk, but he definitely didn't think too much of those ahead an empty desk.
"Great spirits have always encountered violent opposition from mediocre minds." -Albert Einstein
This is a great quote for those that feel that they are constantly met with opposition whenever they want to do something that is out of the ordinary, or different from the status quo. It's only natural that there would be those that would try to stop you, that would attempt to get in your way and ruin your plans. But you have to be that great spirit if you want to do the things you've dreamed of. On the contrary, if you haven't been experiencing a position to your progress, it might mean that you are not taking on a big enough challenge and not living up to your full potential as a great spirit.
"Any fool can know. The point is to understand." -Albert Einstein
Understanding requires a bit more comprehension than knowing. You can know something but not understand it, you can commit information to memory but not know what it means. Einstein is saying that pretty much anyone can learn something, to the point of knowing it, but maybe they don't understand it and are just content to know it. His challenge seems to be that you need to understand what it is you're learning, which may take more than just brushing over a subject. Are you willing to stick with a subject until you fully understand it?
"Creativity is contagious. Pass it on." -Albert Einstein
It's funny to think of creativity being contagious, like a virus, but it really does spread from one person to another, just by the act of that second person watching the first be creative. It's said that leading by example is the best way to lead, and if you are wanting others in your life to be creative you should first give it a go yourself. Then you'll find that others start acting the same way, and before long you've got a virtual creative epidemic on your hands. Einstein spoke much on the topic of creativity, and you can get some helpful hints on how to be more creative from his other quotes on this page.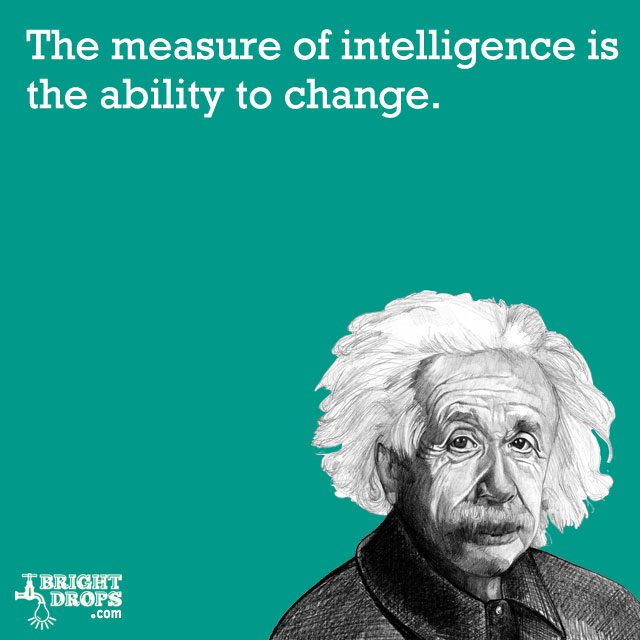 "The measure of intelligence is the ability to change." -Albert Einstein
Being able to adapt to your situation and changing surroundings is one sign of intelligence, and one way that the human race has made it this far as we have. Resisting change is futile because life is always changing. In order to make the most out of your time here, it is imperative that you be open to change, and willing to accept it. The great part is you actually get to play a part in these changes, as long as you focus on what you want and use your imagination to bring about the changes that are on the horizon.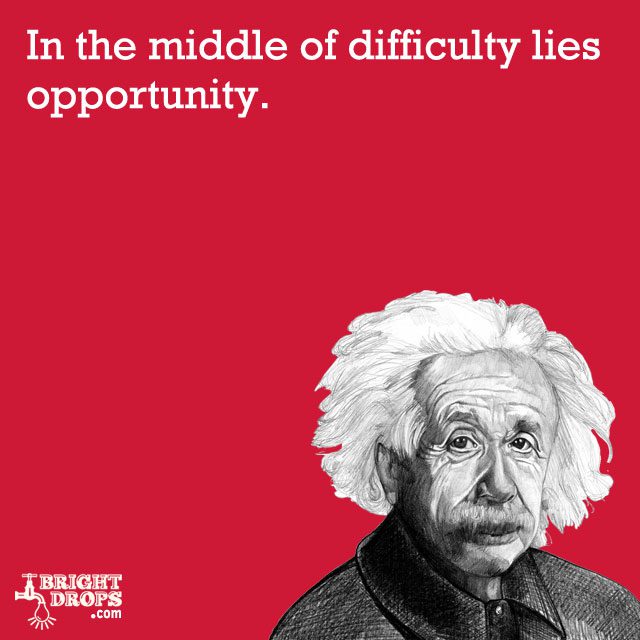 "In the middle of difficulty lies opportunity." -Albert Einstein
This is a quote that all of us can use because every human has difficulty in their life at one time or another. Learning to find the opportunity that is hidden within the difficulty is a skill that will serve you well throughout life. When presented with a problem, it is hard to look at it as a positive thing, but opportunity is a positive things which means difficulties are positive things as well. Most people get so frustrated with a difficulty in their lives that they shut down and feel that there's nothing they can do. Next time you're faced with a difficulty, try to look for the opportunity within it.
"Creativity is intelligence having fun." -Albert Einstein
It is pretty cool to think of your intelligence having fun in the form of creativity. Perhaps you never thought of your creative works as being your intelligence having a good time, but acknowledging that creativity is a form of intelligence only helps you be more creative. If you've ever run into a bit of a dry spell where you didn't create anything for a while, perhaps you lost sight of the fact that creativity is important, and is a way for your intelligence to have an outlet so that you can better express yourself.
.
Motivation FAQs
|
Source